The value of a junk car is dependent on a variety of variables but when a car has incurred so much damage that restoring it would cost more than it is worth, it is referred to as a "junk or scrap car."
One of the most important things you should do before selling your junk car is to determine its value. No secret formula exists. It is not sufficient to state that "something x equals scrap value." There are too many independent factors to forecast. Thus, every scenario is unique.
In this article we will cover
The value of your scrap car can be estimated using a few different variables. The amount you can obtain for your junk car largely depends on its market worth. This article will explain how to estimate a junk car's value.
Unlike the new or used car marketplaces, there are no published prices for junk vehicles by make, model, year, or condition. So, for those who are unsure of whether they are being paid a fair price for their junk vehicle, here is a short list of items to think about:
Year/Make/Model
What kind of car is it? It is the most fundamental consideration when deciding on the cost of a scrap car. The car's current market value and its parts depend on the year, manufacturer, and model. Junk cars are valued differently, especially if they have numerous issues that make them inoperable.
Another aspect to consider is how swiftly cars evolve year over year. Newer models go off the production line yearly with greater features and enhancements, including better fuel economy, better design, upgraded engines, and more plastic parts integrated into their chassis, reducing the demand for metals.
Even if they are not in operational condition, older, classic, and particularly rare vehicles sometimes command higher prices since there will be a significant increase in demand for their parts. Commonly used cars will also sell for greater money because there is always a need for their spare components.
Scrap Prices Are Cheaper Than Salvage Prices
A key factor in establishing a car's value is. Cars are mostly made of steel and aluminium. Market considerations might affect metal pricing—steel rebounds. Aluminium prices fluctuate.
Remember that the value of the vehicle's remaining salvageable parts is not considered in the scrap metal pricing. You should get better rates for your vehicle than scrap steel if it includes reusable components like an alternator or a starter motor; other elements come with expensive onboard GPS, new tires, or anything else that is simple to remove and resell.
The metal is then resold to a scrap metal market, which is transformed into new products and distributed. However, you may be able to negotiate a discount of up to 50 percent for readily resalable components.
We offer services throughout the Waikato, Auckland, and Bay of Plenty regions.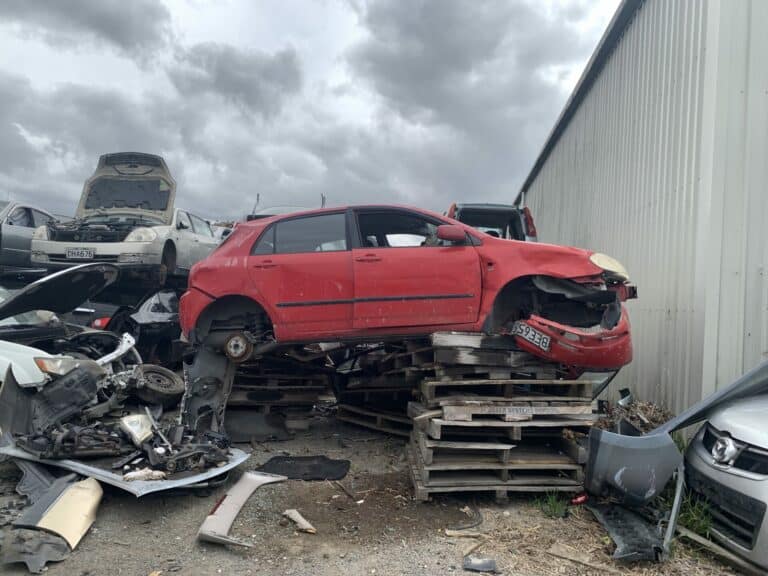 The State of the Vehicle
Is your car a complete lemon or a hidden gem? Can it be made to function again? Or is it damaged beyond saving? These kinds of inquiries will unavoidably come up while selling a scrap car.
If your junk car only has a few minor problems that make it challenging to drive, you can demand a higher price than if it's a total lemon, especially if the car model's current market value is high. The specific circumstance, though, is still crucial. For example, a buyer won't be prepared to spend as much if the overall cost of repairs to get it working again is very high.
Your scrap car will be worth more if it is in better condition. However, if your scrap car has rusted, it might not be worth much. Therefore, it is always best to enquire a little bit about the price you might anticipate for your junk car.
Place Where the Vehicle Is
Not least of all, the location of your junk car will have an impact on the cost. When deciding whether to sell your scrap car, your neighborhood is a key deciding element. The amount you will be paid depends on the distance to the salvage yard and the local scrap metal market. Furthermore, how much money you are finally awarded will depend on the demand for particular cars in your area. For certain makes and models, certain junkyards will offer top prices.
Before choosing, get as many car wreckers' quotes as possible. This will increase the amount of price you may get for the scrap vehicle. However, the difference won't be significant. All the wreckers in your area know the market and have a set ballpark price for each vehicle and would never go over those. A few phone calls can make you an extra $100 or so that is why it is always worth a shot.
We advise scrapping your junk vehicle as soon as possible to earn the most money because if you wait, it may not be worth as much.