No matter how powerful a car is, a day will always come when it becomes no better than a "lemon". Most of the old bangers you see in many garages or auto shops were once the latest models. But at some point, they became so useless to the owner that the only way to get any value from them was to have them scrapped.
It's possible the old clunker you've been trying hard to manage all this while has finally become "dead dead", and that any more repairs will only be a waste of your time and money.
Or maybe you got involved in a road clash and your ride was totalled in the process; though you were lucky to escape with your life. While you have every reason to be thankful, the thought of losing out on your precious car can easily become a burden.
Hopefully, you can still make some money off the old car instead of allowing it to take up space in your garage or become another refuse dump on the street. There are many car wreckers in New Zealand that offer cash for cars that are no longer road worthy.
So you're definitely on the right path if you've decided to scrap your car. However, the most important question still remains-how much do you get for scrapping a car, what are the car wreckers' prices? especially in 2022?
Knowing how much your scrappy car is worth will not only help you avoid a dodgy dealer but also ensure you don't get less money for the car's value. Unfortunately, this is not always easy as it sounds and if you don't mind getting a "pass" deal, you can as well bypass this step, and just go ahead and settle for whatever comes of out in the end.
While determining the value of scrap can seem pretty complicated, it is a hurdle that's worth overcoming even if it gulps your time and energy. In the end, you can make use of the extra money that comes out of it for investing in a new car or some other project.
We offer services throughout the Waikato, Auckland, and Bay of Plenty regions.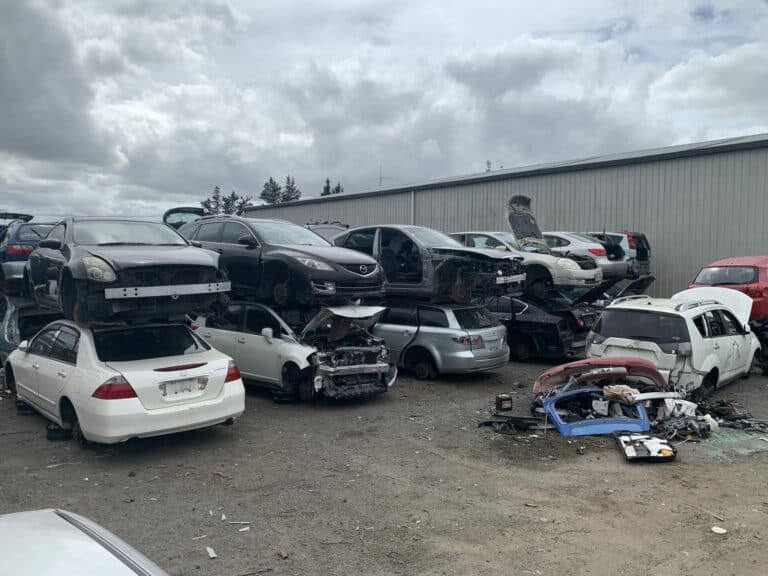 Working out the true worth of your junk car and how the car wreckers' prices are set?
Even if your old car has one or more parts that make it unworthy to be on the road, it is still worth far more than a refuse dump in your garage.
But before then, you need to determine the true worth of the car before you go ahead to sell it. But how exactly do you do that?
The price tag placed on a scrap vehicle is often based on the market value of the used version of the same car. Of course, when selling your car to be driven, it is assumed the used car is a good working condition. So the value of the car lost due to depreciation (which depends on the total cost of making repairs) and its true market value quickly accounts for the salvage price.
Unfortunately, without actual consultation with a car wrecker, it's almost impossible to know the actual value of your vehicle. However, there are certain pointers that can help you arrive at a good estimate so you don't get cheated.
The factors below will help you get an idea of the true worth of your old car:
Car location, the farther you are from a car wrecker the more it will cost them which means you get less
Car present condition (diminished value)
Model and Make of Car
Price of Scrap metal
Year of manufacture
Pick up or delivery, whether you want to drop it off or do you want the wreckers to collect it?
Luckily, over the years, car wrecker prices have gone up, thanks to stricter environmental protections and regulations.
Presently, car wrecker prices in Hamilton and other places in New Zealand for junk cars range from $100 to $10,000 depending on several factors. With few breaker yards like Mega Wreckers, the price could be a little higher. You can get as much as $10,000 for an old banger.
Most times, these prices are based on the tonne of the vehicle's scrap metal.
How to get more?
The best way to avoid getting less than the actual worth of your junk car is to aim at getting more. So how do you go about it? Below are three helpful tips that will make you smile at the bank: Or you can contact us to get a free no-obligation quote.
Don't wait: act fast: The earlier you get rid of the old banger, the more value you're going to get from it, while the longer it sleeps in your backyard; the less valuable it becomes. So if you want to get the maximum value on the lemon, strip it when it can no longer get on the road or when it becomes useless to you.
Demand for more if the vehicle is still driveable: Most junk cars need to be hauled because they can no longer be driven. This of course slashes the value of the vehicle. However, in a case where the car can still get on the road, don't hesitate to ask for more.
Negotiate and talk to multiple wreckers: Work out a firm price for your junk car and stick to it (though, don't be afraid of losing a few dollars). Try to get as many quotes as you can from various wreckers around before making your final decision. To avoid messy deals, stay away from ones who attach conditions to prices, or else you may lose more than what you bargained for.
Contact Mega Wreckers: Contact us to get a free no-obligation quote now. We guarantee the top cash for your car if you are in the Auckland, Waikato, or Bay of Plenty Regions.