How much do car wreckers pay for old unwanted cars around the country?
There comes a time when your old car can serve you no longer. When this happens, the car becomes a burden that needs to be rid of.
It usually will take up useful space and ruin the aesthetic of your garage. When this happens, what should you do? Well, of course, you should contact a vehicle wrecker to pay you some cash for it!
In this article we will cover
If you are thinking of selling your car, you might need some cash. It may be because your car will cost more by getting repaired than it is worth.
If you are in need of some cash, then selling your car to potential buyers when it is not in a terrible condition can be hard as well.
You will have to rush to sell the car, which means some people might take advantage of it and buy it for much cheaper than it should cost.
Selling an old car to even some auto wreckers in a rush might not get you the actual money. You may deserve more to get.
Remember that you can get a lot of money from even just a vehicle that looks like junk; you can get up to $10000!
Get Up To $10k For Old Vehicles
Enter your details and we will get back to you
Prepare to sell
Anyways, here are some ways to sell your car and get the money that you deserve. It may be a vehicle wrecking service or a private buyer.
To increase the value of your car, make sure to get the entire paperwork ready. Clean the car properly and take good pictures in different locations and with good lighting. Only doing this can greatly increase the value of your car to potential buyers. You don't have to do this when selling to car wreckers. So it is much easier for you in this regard!


You should be able to avoid people who are just trying to waste your time. The best way to identify future timewasters is by asking them some questions. Firstly, you should know your potential buyer's full name, where they live, and if they want to see the vehicle. A serious and trustworthy buyer will most probably live in your city or country and will want to test drive the car before buying it. You can solve the problem if you sell it to the car wreckers.


Make sure to accept payment on your own terms. Scammers can scam you from any form of payment, but one scammer can't scam you from all different payment options. Choose a payment option that seems the safest to you and for which you can easily gather proof of the payment. Most car wreckers have instant cash for cars!


You should also provide all the details of the car to the potential buyer. The more you know about your car, the better chances of you selling it. Even if you are selling it to Car wreckers in Hamilton, knowing about your car is important.


Be firm about the prices that you set. May it is for the car parts you are selling or the whole car. You should not budge from the originally set price. Not only will reducing the price reduce the value of your car, but you will regret it later. Don't overprice your car and set a value you know beforehand is what your car deserves to get. This way, you can also avoid non-serious people.
When selling a car to a car wrecker, make sure that the company you sell to is trustworthy. The easiest way to get scammed is by selling your vehicle to a car wrecker in Hamilton or anywhere that isn't registered.
How much do car wreckers pay?
Now, let's assume that you have decided to scrap your car; you will first need to know the price that your car can get you.
Of course, you need to choose a wrecker that is trustworthy. There are a lot of car wreckers, so make sure to choose one that is local.
We at Mega Wreckers will buy your car for anything from $100 to $12000, despite the condition of your car. Of course, a car that is in better condition will get more money than a car in worse condition.
A good car wrecker will give you instant cash. So there is no chance of scamming you and will also offer free car removal to make your job much easier.
A good car wrecker accepts all cars, trucks, vans, RVs, and 4wds. Furthermore, the car will be accepted no matter how bad of a condition the vehicle is in. Even after an accident when the car has no use left, the car wreckers can carry the car for free and give you money for it.
Choosing a local and trustworthy company is the best way to get the exact worth of your car. If you are in Hamilton or Auckland, then Mega Wreckers is a local wrecking company known for its great services. You will not get a better price for your used and old car anywhere other than here.
We offer services throughout the Waikato, Auckland, and Bay of Plenty regions.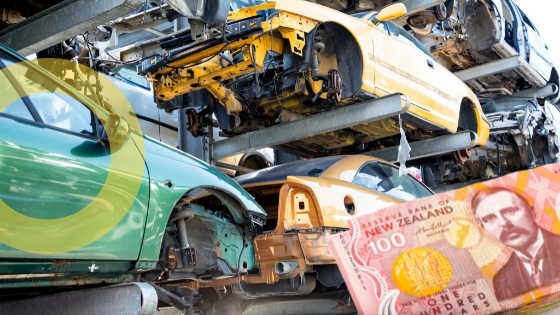 Why wreck a vehicle?
So, if you are wondering what the advantage of wrecking a car is compared to just selling it, keep reading.
A car that has no use can simply be a hindrance and cause a headache. In addition to that, if you want an easy way to earn some cash, then selling your car is the best option out there.
However, if you are still not convinced, here are more reasons you should consider selling your car to wreckers.
Money gain: You will get cash for even the most rusted and damaged cars. This is because car wreckers accept cars for their metal. As you know, you can make a lot of money from an old car that you thought had no value anymore.


Easy removal: Car wreckers offer free removal. They can give you the money that your car deserves.


Recycling: The car wreckers company can recycle salvageable parts like tires, batteries, engines, and even bolts. They will pay you as well they do better for this greener earth. There will be less production of greenhouse gases as old metals can be used to make new cars, and old parts can be used in other cars.


Saving the earth: It will reduce global warming indirectly and reduce landfill waste caused by just throwing old cars away. All these small things have a huge impact on the earth. There is a way to reduce these negative effects on the earth.


Free space: Removing junk from your house for free will not only free some valuable space in your house but also prevent unwanted creatures from living in your backyard or garage. If a car stays in a place unused, it will become a home for many insects, rodents, and other such creatures, bringing disease to your house.


Safer option: There is very little chance that a car-wrecking company will scam you. They have a company to maintain so they will not ruin their business by scamming a customer. This will be worse for their business than just giving you the money that you deserve.


Easier process: Unlike selling the car to a private seller, this process of selling it to Car wreckers is much simpler, easier, and quicker. You don't have to show the car to any potential buyers and waste your valuable time on people who don't want actually to buy the car! If you want quick cash, a good car wrecker company will give you quick cash.
So, this all concludes with the fact that selling your car to a car wrecker is the best way to get rid of it. Moreover, a local car wrecking company like Mega Wreckers is much more trustworthy as everyone knows them than a car wrecking company that no one has heard of! Make sure to do your research and get the worth of your car that you deserve.