Owning a car is not just about driving it. It's also about preparing yourself for various emergencies that might trap you. Accidents, breakdowns, and weather damage can all destroy your car. And if your car is an especially old one, anything can happen at any time.
Now, whether you decide to repair the destroyed car or sell it to wreckers comes later. But if the car dies on you while you're in it, in a place far from help, that's what you need to prepare for. And that's exactly what an emergency kit is for. In this article, we will take a look at what things you should put in your car's emergency kit.
Before we dive into details please note these are recommended and not required for every trip and car. So think, before you go shopping.
Things to include in your car's emergency kit
This is a basic list of things you can keep in your emergency kit and replenish every few months as needed-
Jumper Lead
This is for when your battery dies mid-road. A portable jumper cable is even better as you won't need another person's help to use it.
Tool kits
A basic tool kit contains various tools like wrenches, screwdrivers, nails, hammers, duct tape, scissors, box cutters, etc.
First-Aid Kit
You might suffer from different injuries or health problems during emergencies. For this, having some First-Aid objects like antiseptics, cotton, bandages, paracetamol, ibuprofen, necessary medicines, etc.
Spare tyres
Your tyre can get punctured at any place at any time. It's always smart to have a spare one at the back. If you don't have one and are based in Hamilton, you can visit our yard for a good used tyre.
We offer services throughout the Waikato, Auckland, and Bay of Plenty regions.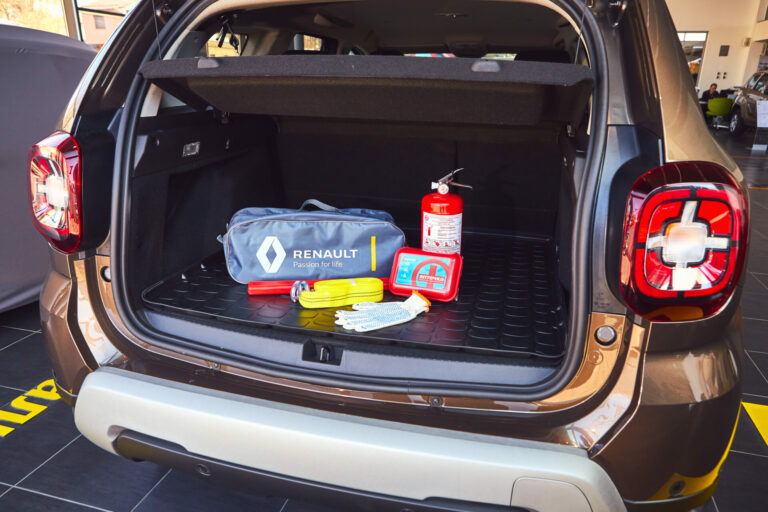 Flashlight and batteries
If you need to check your car's engine at night, then having LED flashlights will be crucial for navigation. Also, keep batteries in the car for these flashlights.
Food and water
In case of emergencies, always keep some non-perishable foods and bottles of water in the kit. The foods can be dry foods like different types of snacks. This is usually very helpful if you are traveling longer distances and at night time. The Kiwis usually shut their stores by 6 PM so it is good to have something to nibble on.
Duct tape
Duct tape can provide a temporary solution for something that needs to be repaired. However, it should never be considered a permanent solution.
Emergency survival blanket
A heavy-duty emergency blanket is very important if you live in a cold part of the country and in a situation where you could get lost somewhere for the night.
Tyre pressure gauge
If you're driving in a climate that is either extremely hot or extremely cold, your tires may be affected by the temperature. For that, a tire pressure gauge will help the tires keep enough air for optimal traction.
Rain poncho
There might be a situation when you have to get out and check the car while it's raining. At that time, a rain poncho will keep you dry.
Road flares and reflective triangles
If you are stranded or lost, road flares can help you get attention from anyone nearby. Reflective triangles serve the same purpose. It can help you alert passing motorists about your presence.
Extra chargers
You can decide to keep an extra charger for your phone or laptop in case you forget to take it when you leave home.
It's always wise to prepare yourself for the worst situations. If you always have these things with you, you can drive worry-free.