If you have an old or junk vehicle, you will sell it to a car removal company. They will come and take your car in exchange for cash. With your permission, of course. But sometimes, they might take away your car without you being aware. However, they have their reasons for that. And it's easy to get your car back too. Read this article to find out about the two types of car removal companies and how to get your vehicle back from them.
In this article we will cover
Let's define 'car removal company'
Car removal has many definitions and we need to understand which one applies to your case.
We will cover two types of car removal companies here. The first one is Scrap Car Removal Company where they purchase old and unwanted vehicles and remove them to recycle and salvage reusable parts, for example, someone like us.
The second type of car removal company is a Towing Company that tow vehicles away for different reasons, for example, a car is damaged and needs to be taken to a mechanic, a private property owner has asked them to tow a vehicle parked illegally or without their permission, or a law enforcement authority such as police and council has hired them to remove a vehicle.
Henceforth, we will refer to the cash for cars services as Scrap Car Removal Company and the other as Towing Company to keep things simple.
Why would a scrap car removal company take your car without your permission?
From our personal experiences, it is a very rare occurrence with services like car wreckers. We always make sure we speak to the owner of the vehicle before finalising the purchase. However, due to reasons out of our control, such as the seller not stating the truth of the ownership or due to other human errors, it may occur.
When purchasing a scrap vehicle we always check the ownership of the vehicle with the New Zealand Transport Agency (NZTA), this happens every single time with absolutely no exceptions. If someone states the car belongs to them and shows a valid ID we check it against those details.
Now the problem arises when one purchases or sells their vehicle and doesn't change the ownership of the vehicle. These checks return the owner details to us and we check them against the provided details. If they match we assume it belongs to the seller.
If you have purchased a vehicle always make sure you change the ownership. Let's create a scenario, you have purchased a vehicle and you do not change the ownership and the car is stolen after a month. Turns out the person who sold is a dodgy fellow and they stole the car they sold you. If they come to us to sell it we do our checks and it returns their details and no security issues (we also check for stolen and financial issues). Guess what are we going to assume?
It only costs $9.00 NZD to change the ownership and can be done online. So always change the ownership when you purchase a vehicle and report a vehicle when it is missing. This ensures scrap car removal companies do not purchase if the vehicle has been reported missing.
We offer services throughout the Waikato, Auckland, and Bay of Plenty regions.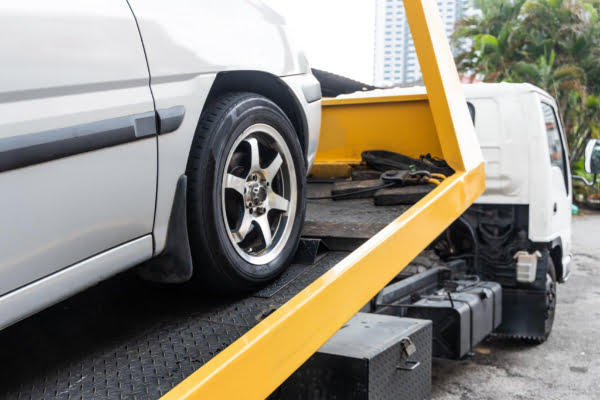 How can you get your car back?
In this case, when dealing with cash for scrap car services and when everything checks out with NZTA and NZPolice records, we don't believe ourselves to be liable. We can still give your back to you however you will need to cover the costs. If the car has been dismantled then, unfortunately, there will not be much we can do.
To ensure this never happens to you there are very simple steps you can take to avoid this.
Always change the ownership of the vehicle you purchase. It only costs $9 and can be done on your phone online, takes only a few minutes.
If your car is missing, do not wait, report it immediately. This will add it to the police database which helps legit companies avoid the purchase of such vehicles.
Lock your vehicle and park in secure areas.
Why would a towing company take your car without your permission?
A towing company mainly took away your car because you parked it on private property. It may have been a privately owned space where you'd have to pay to park but didn't. Or you parked for longer than you paid for.
In this situation, the private property owner has the legal right to call a towing company and tow your vehicle away. This right is given to them by an old legal remedy named "distress damage feasant." This remedy lets landowners take care of anything illegally on their land and causes damage.
Of course, that applies to cars too. You may think that simply parking the car is not causing any damage. And hence, it should not fall under this remedy. However, considering current scenarios, the court has ruled that the cost of the landowner towing your vehicle counts as damage. Therefore, your car will be towed, even if there aren't any warning signs, in some cases.
It should be mentioned that if your car was parked on public property, the police or traffic warden authorized the car's removal. They have the authority to tow any car without a nearby owner that is causing traffic issues. For example: if your car was parked on someone's driveway, on the footpath, or on the yellow lines, Your vehicle was moved to a different, safer location, obviously at your expense.
Remember that no towing company will take your car simply because they saw it across the street and liked it. They only have that authority if they get a notice from a person who is legally allowed to have your car removed.
How can you get your car back?
If your car was towed from private property, you have first to contact the landowner and ask them which towing company they called for towing the car. If the owner is not present to tell you or they don't know themselves, you have to contact every towing company in your area.
To ask about your car, you have to give the company details like the plate number and photo identification. Once you find your car, you need to know the towing fees. There is no set amount to how much they will charge. But legally, they are supposed to charge only for expenses reasonably incurred in removing an unlawfully parked vehicle. Pay the towing fees, and the car is all yours again immediately.
If you contact them days after the car has been removed, they may ask you for storage fees alongside the towing fees. This is usually counted daily.
So to ensure a car removal company doesn't take away your car without your permission, don't park it on private property or illegally.