Having an old, deregistered van lying around is a matter of quite a concern. You can't drive it anymore, so it's useless to you, and you have to get rid of it. But you bought it with so much money, so you can't be careless and rush while selling your van.
In this article we will cover
You must already know that one of the ways to get rid of old and deregistered vehicles is to sell them to car wreckers like us. But do vans fall under the category of vehicles we wreck? Read this article to find out.
Can you sell your deregistered van to wreckers?
Yes, you most definitely can. Car wreckers may have the word "car" attached to their name, but that's not the only vehicle we work with. We're "auto wreckers," anyway, because we work with various types of vehicles, like trucks, SUVs, buses, and, of course, vans.
So we will definitely accept your van. Now you might be wondering, do we accept all types of vans? The answer is yes again. We definitely will. Our motto is we buy all makes and models, in any condition.
Your van might be badly damaged in an accident, it might be deregistered, and you have no Warrant of Fitness for not meeting New Zealand's roadworthy compliance. It can be in virtually any condition, from good to bad, and we will still be willing to buy it. But naturally, you will get less cash out of a vehicle that is in a worse condition.
Can you sell parts of your deregistered van to wreckers?
If you don't want to sell the entire van and think it will be more beneficial to sell parts of it, then that's cool too. We car wreckers will buy the parts of your van that we need as well. Normally, we would buy the whole van from you and dismantle it for the parts ourselves. But if you do that for us, there is one fewer step in the process, so you might make a better profit.
We offer services throughout the Waikato, Auckland, and Bay of Plenty regions.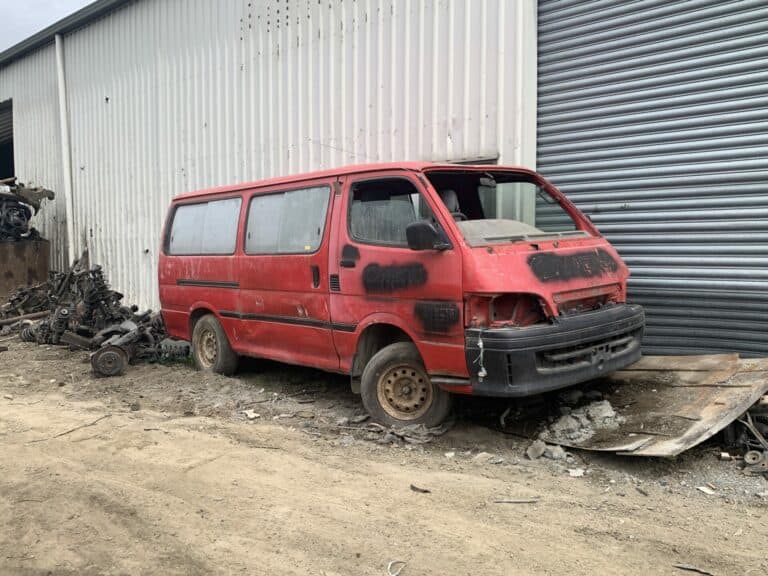 We get tons of requests for parts and they range from small side mirrors to motors. When we have to source parts that are in demand we certainly look into purchasing them, however, it is very rare. Make sure you check with us or a local wrecking yard near you before dismantling your van.
However, it's important to keep some things in mind when you try to sell parts of your deregistered van:
Find out which parts will sell well
We don't need every part of your van, only the ones we can resell. We also don't need parts that are completely damaged. It's best to get your van checked by a mechanic first and let them tell you which parts are still intact and which parts you should hand over to us. You know that the engine and transmission are statistically the most demanded parts of any vehicle.
Dismantle the van
Once you know which parts you need to sell, start the work. If you do it yourself, it might take weeks or months. Given you have the knowledge and skills. Otherwise, you'd have to hire professionals for the task, which is going to be quite expensive and still take a lot of time. And you might ultimately not make any profit at all. So make sure to calculate which method is better before you make a decision.
Call the wreckers
After you have the parts, you only need to give us a call. We will come right over and take the parts from you. We will give you a fair price, and if it satisfies you, we can make the exchange immediately.